If not why? No seriously…why? There is no real downside to signing up for the site especially as you can tune when you receive email notifications and what said notifications will contain. In fact when a user from the greater Mount Pleasant Highlands* area joins, they get a message to help them with just that. Added bonus is that there is a wee sub-group specifically setup for residents of the Higuera Road system, and some of the smaller private roads also have their own groups as well.
While this site is a good tool for dispersing information, at this time there is no mechanism for users other than myself and a couple of other residents to post information. Thus, it serves primarily as an information repository and a place to repost a few things that already appeared over on Nextdoor.
Still not convinced? Nextdoor is a good place to get recommendations for things like plumbers, roofers, gardeners, etc, plus places to eat (or more importantly, order take away,) and a huge range of other services. Over the years I've found Nextdoor to be a more useful tool over Yelp, Houz and other similar rating sites. Two other useful features of Nextdoor are that local agencies like SJ PD, CalFire, and County post information to the site; and residents often post information about noteworthy events such as why a helicopter is hovering over Grossbeck Park.

Keep in mind that Nextdoor is NOT Facebook. Silly cat memes, random posts filled with angst about something you could care less about, and pictures of children belonging to someone you don't know do not appear on the site. It really just is for news or information, and the amount of chatter from our own little patch is sparse.

Please also note that all but EIGHT developed parcels that are accessed via the HR/HHL/QC roads are now on Nextdoor, so if you're reading this and are not on the site, please consider joining!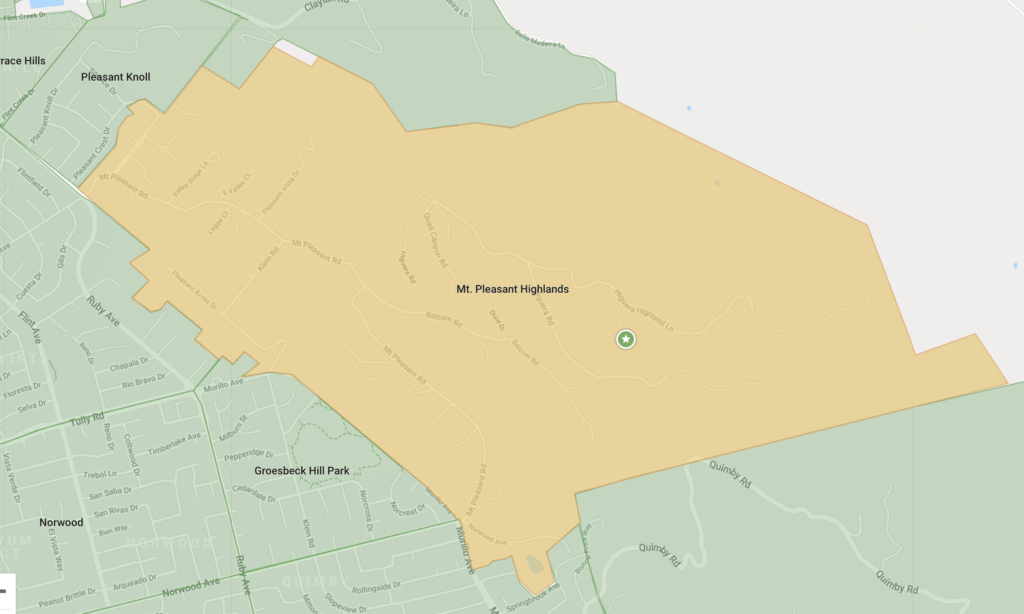 *Nextdoor uses the construct of geographic "neighborhoods" and our area is named Mount Pleasant Highlands. It consists of all the parcels/residences along Mount Pleasant Road from the northern intersection at Ruby to the souther intersection at Murillo and Norwood. All side roads off Mount Pleasant, including Higuera are also part of this neighborhood. Because most of the parcels are an acre or more in size, we have a pretty low density population compared to most surrounding neighborhoods. Just 240 total households of which roughly 1/5 are off Higuera.